Library
The collections of the Ensa Nantes library, under the responsibility of Anne de Chanterac, consist of more than 22,000 books and 3,600 documents of "grey literature" (reports, surveys, the latter). In addition, some 3,000 theses of Ensa Nantes students offer an original and unique resource for research. About 100 French and foreign magazines are also available for on-site consultation and from the digital catalogue (www.biblio.nantes.archi.fr). The analysis of articles in most of these journals is made available to readers.
Students of the Bachelor and Masters of Architecture and Urbanism in Mauritius have access to the 324 reference books on site, including the essential bibliographical elements for the early years of architecture studies. Each year, about 100 new references are added to this group of books in a common resource centre accessible to all campus institutions. Loan terms apply as detailed in the internal regulation.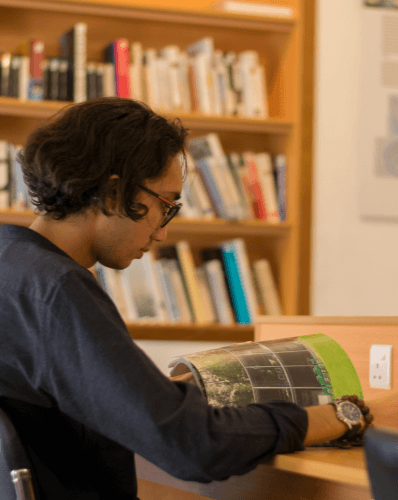 Printing
ENSA Nantes (Mauritius) is equipped with a small printer (A4 and A3) and a plotter for large-format printing (A2-A0). Printing rates and instructions are reviewed annually by the Board of Directors.
Student handbook
The student handbook of ENSA Nantes (Mauritius) contains all information that can be useful to students already involved in the program, but also to teachers, students who wish to enroll in our courses, and any interested public :
The description of all courses offered;
Descriptions of teaching units and courses, including objectives, content, evaluation procedures, as well as illustrations of student work and links to references or sites;
Links to school regulatory documents (internal regulations and study regulations);
The description of the various bodies (Scientific Council, Academic affairs, Board of Directors, Commission of Student Life) and representatives of each body (teachers, students, staff, external personalities).
The student handbook for students enrolled at ENSA Nantes (Mauritius) is available in .pdf format on the educational blog for students and teachers.
Jobs & internships
You will find here advertisements of job offers and internships from ENSA Nantes (Mauritius).